Expert HVAC Maintenance & Service by Farrell's Comfort Services
At Farrell's Comfort Services, we believe the key to a well-functioning HVAC system lies in regular maintenance. Our impeccable servicing ensures your appliances run efficiently, saving you money and ensuring comfort throughout the year.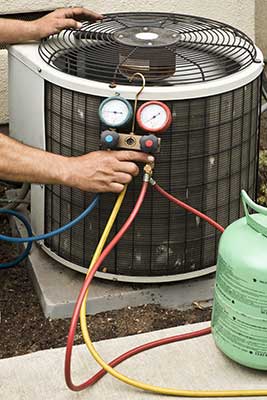 HVAC Maintenance & Servicing: Towards Hassle-Free Home Comfort
Our professional team uses advanced diagnostics and thorough check-ups to keep your HVAC system in peak condition. Here's how our maintenance and service solution works:
Routine Maintenance: Scheduled service to keep your HVAC system running efficiently and extend its lifespan.
Comprehensive System Check: Detailed inspections to preemptively identify potential issues and address them.
Cleaning & Calibration: Thorough cleaning and calibration to ensure minimal energy wastage and optimize performance.
Safety Checks: Inspections of key safety aspects, including venting, gas pressure, and carbon monoxide leaks, for your peace of mind.
Choosing Farrell's for Your HVAC Maintenance Needs
Trust Farrell's Comfort Services for your HVAC maintenance and servicing needs and enjoy the benefits of:
Transparency & Honesty: Comprehensive assessments with straightforward communication for clear understanding and informed decision-making.
Exceptional Quality: Delivered by our fully insured and licensed team, focused on personalized service and professional workmanship.
Proactive Approach: Prevent unnecessary repairs with our proactive maintenance plans.
Complete Customer Satisfaction: Our commitment extends beyond mere service to ensuring complete satisfaction and exceeding your expectations.
Ensure Your Home Comfort Today with Our Maintenance Services
Don't wait for your HVAC system to malfunction before giving it the attention it needs. Opt for regular HVAC maintenance and servicing with Farrell's Comfort Services and experience year-round comfort. To schedule a service or discuss your maintenance needs, call us today at (540) 323-7448.
Stay informed and engaged by visiting our Facebook page for real-time updates, useful tips, and more.